Steel Flat Bars
---
Flat bars are a hugely versatile format for steel, with excellent potential to cut, weld and bend to suit any particular application.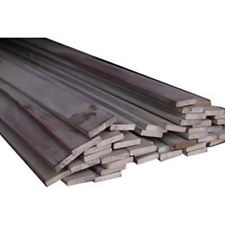 Our in-house fabrication team are able to work with flat steel to fabricate light assemblies ahead of delivery, whatever your specific needs may be.
Any and all such enquiries are welcome, and we can also carry out other finishing work on flat bars, such as painting or galvanising them, so that this does not need to be done on site.
Like our other steel products, we can also cut and drill flat bars as required, so again simply let us know if this is something you need us to do.
In terms of the sizes of flat bars available, there is an excellent amount of choice, with a range of widths and thicknesses alike.
From 13mm x 3mm to 150mm x 6mm, and with smaller widths reaching thicknesses of up to 50mm, sections range from bordering on wafer thin, to chunky cross-sections akin to our solid square bars.
All of this has a direct bearing on the weight of a standard length of the bar, which can range from less than 10kg per metre for smaller, thinner bars, to around 100kg per metre for the biggest bars.